—
Do you want attic insulation installation services for your home in Cary?
Attic insulation plays a crucial role in maintaining a comfortable indoor environment and protecting your house from pest infestations. For all your attic insulation needs in Cary, look no further than our trusted local specialists. Our team is dedicated to installing attic insulation quickly but thoroughly with our experience and commitment to outstanding quality.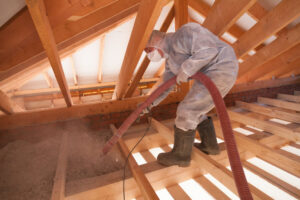 Expert Insulation Installation Team
At Southern Wildlife and Land Management, our skilled professionals are equipped with the best insulation and well-versed in the latest installation techniques. With our expertise, we provide quick and reliable attic insulation installation in Cary. Whether your attic is infested with wildlife or just overdue for insulation replacement, you can count on us for exceptional installation services.
Advantages of our attic insulation installation in Durham include:
Enhanced Energy Efficiency – A meticulously insulated attic yields substantial energy conservation benefits. Our attic insulation acts as a formidable barrier against heat movement, effectively maintaining cooler interiors during summer and warmer indoor spaces throughout winter. This translates into reduced strain on your HVAC system, leading to energy savings that you'll notice.
Guarding Against Pest Intrusion – The natural environment surrounding Durham exposes attics to the intrusion of various wildlife, including flying squirrels, bats, raccoons, and more. Our proficiency in wildlife control and removal guarantees a pest-free attic environment. Through the incorporation of robust exclusion techniques during the insulation installation process, we ensure that no pests or critters can infiltrate your home.
The Best Attic Insulation Installation Company in Cary
Our local team stands out as the go-to choice for all your attic insulation needs. Contact Southern Wildlife and Land Management today to benefit from our expert attic insulation services in the Cary area!
---
More Critters We Remove: