—
Would your home in Raleigh benefit from attic insulation installation services?
Proper attic insulation is essential for maintaining a comfortable indoor environment and reducing energy consumption. With expert attic insulation installation, you can enjoy consistent temperatures throughout your home year-round. Say goodbye to hot spots and cold drafts, and welcome an all-year comfortable indoor environment.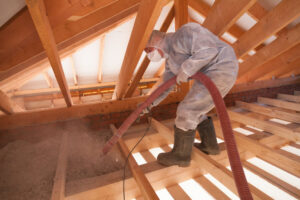 Pro-Grade Attic Insulation Installation
Southern Wildlife and Land Management offers professional attic insulation installation services to help homeowners in Raleigh create a comfortable and energy-efficient living space. Our goal is to ensure that your attic is adequately insulated for maximum temperature control.
There are many benefits of our attic insulation installation in Raleigh, the biggest being:
Enhanced Energy Efficiency – Installing quality attic insulation can significantly cut down on your energy usage. By thwarting heat exchange, our attic insulation helps maintain a comfortable indoor temperature throughout the year. This minimizes strain on your heating and cooling systems, resulting in substantial energy savings.
Effective Pest Management – Raleigh's wooded surroundings can attract unwanted critters like bats and raccoons to infiltrate attics. Our proficiency in wildlife control guarantees that your attic remains free from infestations. Throughout the insulation installation process, we employ expert exclusion methods to block entry points, ensuring that pests and wildlife stay out of your living space.
Raleigh's Top Attic Insulation Team
Are you ready to create a more comfortable and energy-efficient living space with our expert attic insulation installation? Reach out to Southern Wildlife and Land Management today to take the first step toward a well-insulated home in the Raleigh area!
Southern Wildlife and Land Management offers attic insulation installation services in the greater Raleigh, NC area including Apex, Cary, Chapel Hill, Durham, Knightdale and other surrounding areas. Call us today!
---
More Critters We Remove: