—
Are you looking for attic insulation installation services for your home in Durham?
Having a properly insulated attic is required for good energy efficiency in your home and it can also protect against attic pests, which can spread illnesses to your household. For top-quality attic insulation installation services, it's wise to work with a qualified local company. Our team offers the most comprehensive attic insulation installation in Durham.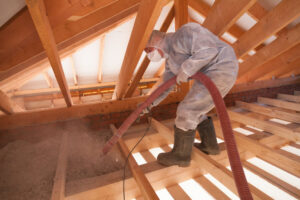 Reliable Attic Insulation Solutions
At Southern Wildlife and Land Management, we believe in providing tailored attic insulation solutions for each home in Durham. Our team starts with a comprehensive assessment of your attic to understand its specific insulation needs. Based on our findings, we recommend the most suitable insulation materials and techniques to maximize energy efficiency and comfort.
Benefits of our attic insulation installation in Durham include:
Energy Savings – A well-insulated attic can significantly reduce your energy consumption. By preventing heat transfer, our attic insulation helps keep your home cooler in the summer and warmer in the winter. This reduces the workload on your HVAC system and leads to noticeable energy savings.
Pest Control – Durham's natural surroundings make attics susceptible to wildlife intrusion from various critters, such as flying squirrels and raccoons. Our expertise in wildlife removal and control ensures that your attic remains pest-free. We use effective exclusion techniques during insulation installation to prevent all pests and wildlife from entering your home.
The Premier Attic Insulation Installation Company in Durham
For top-tier attic insulation that will last for years to come, we want to speak with you. Connect with Southern Wildlife and Land Management today for excellent attic insulation installation services in the Durham area!
---
More Critters We Remove: