—
Are you a homeowner in Knightdale seeking professional attic insulation installation services? 
A properly insulated attic translates to better overall comfort, thousands of dollars saved in energy costs, and a healthier home environment. With our dedicated attic insulation professionals at your service, you can bid farewell to temperature fluctuations and uncomfortable drafts. Our personalized insulation solutions in Knightdale ensure consistent indoor temperatures year-round.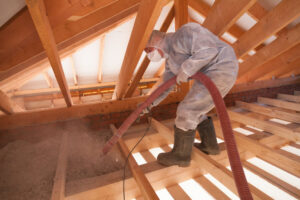 Trusted Attic Insulation Installation Specialists
Southern Wildlife and Land Management is your go-to choice for attic insulation installation installation services in the Knightdale area. We always strive for quality and customer happiness, guaranteeing insulation that endures for many years to come. You can count on our technicians for exceptional results, whether you need replacement insulation following a severe storm or pest infestation, or if it's just time for an upgrade.
We are your trusted local partner, providing expert attic insulation solutions that have multiple benefits, including:
Energy Efficiency – Our attic insulation installation services in Knightdale contribute to lower energy consumption. Our insulation stabilizes indoor temperatures by preventing heat transfer, leading to considerable energy savings and enhanced sustainability.
Wildlife Exclusion – Our wooded surroundings can expose your attic to wildlife intrusion, but our team's proficiency in wildlife prevention ensures your attic remains pest-free. Our attic insulation services address damage and messes left behind by pests and prevent future infestations from affecting your property.
The Premier Attic Insulation Installation Team in Knightdale
With our help, you won't have to worry about the integrity of your attic insulation any longer. Speak with Southern Wildlife and Land Management today for top-quality attic insulation installation in the Knightdale area!
---
More Critters We Remove: