—
Raccoon Control & Removal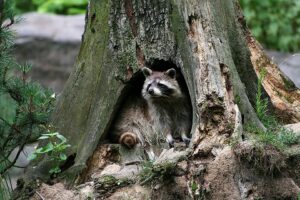 Known as the bandit of the night that searches for shelter in order to keep warm during the chilly winter days, these critters can make an absolute mess of a house.While the role they play in the local ecosystem is an important one, raccoons shouldn't be making themselves feel at home in your house. If you've been hearing a loud rustling in your attic or you've seen noticeable damage on your roofline, it's time to call a trusted raccoon removal service.
At Southern Wildlife and Land Management, our reliable raccoon control technicians have the expertise and training needed to remove raccoons from your house. For over a decade, our skilled raccoon control team has offered our removal services in the greater Chapel Hill area to help homeowners and business owners get rid of these pesky critters and prevent them from entering into your home again.
Home Raccoon Control
If one of these animals has recently entered your house's attic or soffit area, it's important to take care of the issue right away. The longer a raccoon stays in your house undisturbed, the more damage there will be as a result. These pesky critters are famous for not only getting into garbage cans, but also destroying roof vents, shingles roof lines and attic spaces as they enter your home. Once they've gotten into your house, they will oftentimes destroy the insulation as they move around and potentially give birth to their litter. 
When our raccoon control professionals get to your home, we will perform an in-depth inspection to see where the raccoon got into your house and diligently work to remove it. In order to get rid of it, our team will either set live traps on your roof to catch it as it exits, or trap it wherever it's located. We complete both of these processes in as humane and efficient manner as possible. After we've caught the intruding raccoon, we will then enter the affected space to make sure there are no babies left in the area, along with viewing the damage.
Raccoon Cleanup Service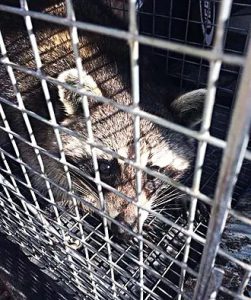 The last, and equally important, step in this process is to perform the cleanup service. Since raccoons will oftentimes leave a huge mess wherever they were living, this clean up process is very important. Oftentimes insulation gets destroyed, feces and urine is left behind and other aspects of damage is present – all of which needs to be addressed right away.
If you're currently experiencing a raccoon infestation at your home or business in Chapel Hill, you've found the right company. Contact the professional raccoon control technicians at Southern Wildlife and Land Management today to learn more about how we can help!