—
Raccoon Control Services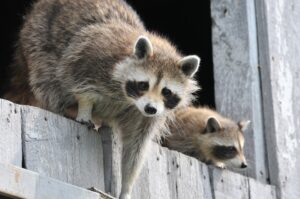 They're the night bandit searching for a safe shelter to keep warm through the chilly winter days or a safe place to have their babies. While their part in the local ecosystem is important, raccoons should not be making their home in yours. If you've been hearing a rustling in your attic or notice damage on your roof, it's time to call a raccoon removal company.
Here at Southern Wildlife and Land Management, our professional raccoon control specialists have the training and experience needed to get rid of raccoons from your home. For over a decade now, our team has served the greater Holly Springs community to get rid of nuisance raccoons and prevent their entering into your home.
Home Raccoon Removal
If one of these critters has entered your home, it's important to get rid of it right away. The longer a raccoon stays in your home, the more damage you'll experience as a result. These creatures are notorious for destroying roof vents and shingles as they attempt to enter your home. Once they've entered your home, they will create a mess of the insulation in your attic as they crawl around and possibly give birth to several babies. 
When the raccoon removal experts at Southern Wildlife and Land Management arrive at your home, we will perform an in-depth inspection to determine where the critter entered your home and then work to get rid of it. Whether we set live traps on your roof where the exit is or we trap the raccoon in your attic, we make sure to do everything in a humane and efficient manner. After we've caught the raccoon, we will enter your attic to make sure there are no babies in the area. 
Raccoon Cleanup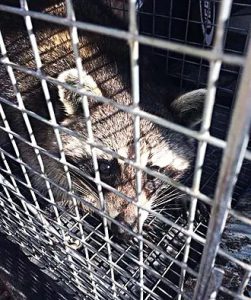 The final, and equally important, task to complete is the cleanup service. Raccoons leave an incredible mess in attics. Whether your insulation is destroyed, there is raccoon feces and urine left behind or any other damage, this needs to be addressed right away. We will work to clean up the area and leave no trace of prior damage.
If you're needing a reliable raccoon removal service in the greater Holly Springs area, you've come to the right place. Contact the professional raccoon control specialists at Southern Wildlife and Land Management today to learn more about how we can serve you!