—
Raccoon Trapping Company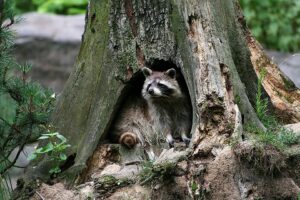 These pesky creatures can be the source of one great, big headache if they find their way into your home or crawl space. If you're currently experiencing this situation and needing immediate relief, it's time to call Fuquay-Varina's premier raccoon removal company. With the help of Southern Wildlife and Land Management, your raccoon infestation can vanish as quickly as it began. 
For over a decade Southern Wildlife and Land Management has provided the finest raccoon removal services in the greater Fuquay-Varina community. Although these creatures usually remain in their natural habitat to find their food and shelter, they sometimes wander out to find other sources of these goods. Unfortunately they can often end up in homes and businesses as they take advantage of weak structure or simply force their way into an opening. 
Removing Raccoons From Your Home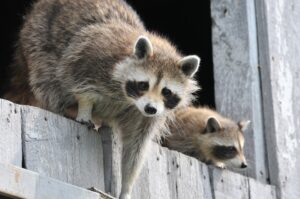 To remove these pesky critters our raccoon removal professionals will first inspect the exterior of your property to determine the possible entry areas. Not only could they find their way in through a main level opening, but they oftentimes make their way onto the roof and enter your attic area through vents or ripping off your shingles. While attempting to remove the raccoon(s), our wildlife professional may set multiple live traps in order to catch the animal when it leaves the area. 
Once the animal is trapped it's important to enter your attic with appropriate protective gear on to see if there are baby raccoons or damage caused by the animal. Oftentimes you will need to rip out old insulation and replace it because of the damage and feces/urine left by the raccoon.
If you think you have a raccoon in your attic, soffit area or crawl space, it's important to call a wildlife professional right away before the creature causes more damage. For all of your raccoon removal services in the greater Fuquay-Varina area, contact Southern Wildlife and Land Management today!