—
Raccoon Trapping Services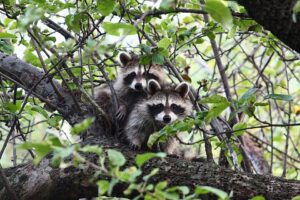 Having a raccoon infestation at your home in Knightdale is never an enjoyable experience. Instead of relaxing during the night hours, you're constantly wondering what the rustling noises are in your ceiling. If this situation is happening at your home, it's important to call a wildlife professional right away.
Here at Southern Wildlife and Land Management, we pride ourselves on providing the most effective raccoon removal services in the Knightdale area. Whether you're noticing an increased amount of raccoon activity around your home, hearing a loud rustling noise in your attic area or seeing raccoon droppings around your home, contacting a raccoon removal specialist is the best plan forward.
Home Raccoon Removal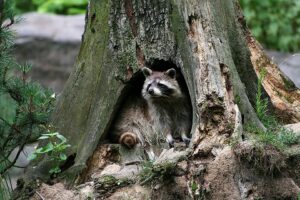 When we arrive at your home, we will make sure to inspect the outside of your property to see where the raccoon may have entered from, but we will also inspect your roof as well because of their tendency to enter through roof vents, loose shingles or your chimney. Once we have found their entrance or most travelled path, many times we will set a live trap in order to trap the raccoon and then enter the attic area in order to see if there are any baby raccoons that have been separated. We will then transport the raccoon far away and release it back into its natural habitat. 
Back at your home, we will make sure to clean up any damage left by the raccoon while it was in the attic. Many times, they will leave behind a mess of insulation along with feces/urine as they were living there. Once we have cleaned up your attic and installed raccoon exclusion measures, they will no longer come back and enter your home's attic.
If you're needing this important service to get rid of a raccoon from your attic, soffit or crawl space, contact the raccoon removal professionals at Southern Wildlife and Land Management today. We will be sure to bring a peace of mind back into your Knightdale home!