If you've been hearing fluttering sounds and squeaking noises coming from your attic or you've smelled a peculiar, musty odor, we've got bad news: there's probably a bat infestation in your attic. Bats are among the most common attic invaders in the Raleigh area and they cause nothing but trouble. Their feces, known as "guano," are highly corrosive and can spread histoplasmosis to your family. While bats don't usually bite, they are also common carriers of rabies.
If you have bats in your attic in Raleigh, it's important to have them removed promptly. However, if you want to prevent them from fluttering back in, there are some additional steps you'll need to take. Here are a few of the best ways to keep bats out of your attic.
3 Ways to Prevent Bat Infestations in Your Attic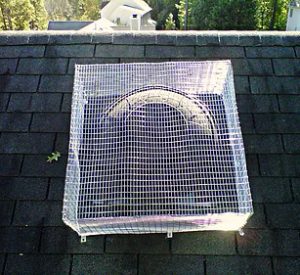 Install Vent Covers – Bats may look big and scary when they're flying around but they can actually squeeze through a hole about the size of a dime, which is why they enter attics so easily. Vents are a common bat entry point in Raleigh homes, so a great way to keep bats out is to

install a metal mesh cover

over any vents leading into your attic. This is not a foolproof bat exclusion method but it robs them of their easiest doorway into your home.

Seal All Holes – If vents are covered, bats will often find their way into your attic through holes in your roof, siding or soffits that were created by storm damage or other pests. Performing an attic inspection can help you identify these holes and seal them up or properly cover them so that they can no longer serve as passageways for bats.

Install an Ultrasonic Repellent – Because bats have extremely sensitive hearing, sound-based deterrents can prove effective in keeping them out of your attic. If you install an ultrasonic repellent device in your attic, it will emit high-frequency soundwaves that hurt bats' ears and make your attic uninhabitable to them. These devices can be purchased for about $30 and are highly effective in keeping bats out of your attic in Raleigh.
Want Help Keeping Bats Out of Your Attic?
While following these tips can help you prevent bat infestations in your attic, removing bats, cleaning up their mess and ensuring they'll never come back requires the work of professionals. Call Southern Wildlife and Land Management today for the most reliable bat removal and prevention services in the Raleigh area!