—
Get Rid Of Bats In Your Home
While they're often referred to as a popular Halloween creature, bats frequent houses more than just October 31. In fact, sometimes these creatures can roost and live in your home for several months.
If you're wanting to remove these home intruders, contact the professional bat removal and exclusion specialists at Southern Wildlife and Land Management. Our team has many years of experience serving the Cary area with quality bat control services.
You can count on our team of experienced bat control professionals to provide you with the one or many of the following services:
Inspection
Removal
Exclusion & Prevention
Damage Repair
Sanitization & Deodorizing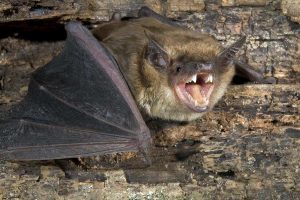 Bat Removal Services
While you may think these creatures are minding their own business in your attic, walls, or soffit area, their presence is dangerous enough to need to remove them. Because of the various threats they present, getting rid of them as soon as possible is best.
Bats are commonly known for carrying rabies along with creating dangerous environments because of their feces (guano). If a bat colony is left in your attic too long, the build up of guano will pose a threat to your household as it creates toxic spores that can be released into central living areas.
As we work to remove the bats from your home, we will do so carefully and with the proper equipment. It's best to leave this job to bat removal and exclusion professionals who have many years of experience and training.
Trusted Bat Control Professionals
If you're needing high quality bat removal and prevention services for your home in the Cary, NC area, contact the professionals at Southern Wildlife and Land Management today. Our experienced bat control specialists will be sure to get rid of the bats in your home and make sure your home is sealed up so no other bats enter. Call today!
---
More Critters We Remove: