—
Are bats driving you batty? These creatures can unfortunately find their homes in Chapel Hill properties for months on end, or even years, causing potentially serious problems if you don't take adequate steps to deal with them.
In North Carolina, state law protects bats. If you want to get bats out of your home, you need to work with a bat control team that knows what they're doing. Fortunately, the professionals at Southern Wildlife and Land Management can help!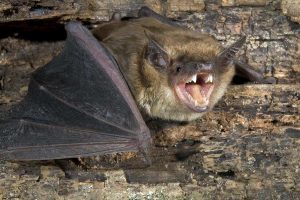 Why Choose Southern Wildlife?
Even if you aren't bothered by the idea of sharing your attic, walls, or soffit areas with bats, it's best to have them removed. Their fecal matter, or "guano," will build up over time and can release toxic spores and unpleasant smells into your home. Bats can also carry rabies, making potential interactions with them dangerous.
The team at Southern Wildlife and Land Management have many years of experience offering bat control services. Whether you have one bat that you've located in your soffit area or you have a colony living in your attic space, our team of certified bat removal technicians will quickly and effectively remove these creatures.
We offer a wide range of bat control services, such as:
Inspection
Removal
Exclusion & Prevention
Damage Repair
Sanitization & Deodorizing
Contact Us for Bat Control Today!
Whether you know you have a bat infestation or you simply suspect their presence, the best time to call the experts at Southern Wildlife and Land Management is today. It won't take long for us to banish bats from your Chapel Hill home and prevent them from getting back in!
Do you need removal services elsewhere in North Carolina? Our company is happy to serve clients across the greater Triangle area.
---
More Critters We Remove: