—
Get Rid Of Bats Today!
Have you noticed a few bats fly out of your gable vent during the evening hours? Have you seen an increased number of bats flying around your business lately? If so, this current issue needs to take priority in being addressed as there could be health consequences.
To take care of this situation fast and with high effectiveness, contact the expert bat removal technicians at Southern Wildlife and Land Management today!
Since these flying creatures are so small, it may be difficult to find where they entered in from and where they're exactly located. Common areas for bats to be found are in attic areas, soffits, walls, or even behind exterior shutters. They can usually enter this area because of small openings found in or near small crevices or holes in the building foundation, chimney cracks, gable vents, or any other small opening.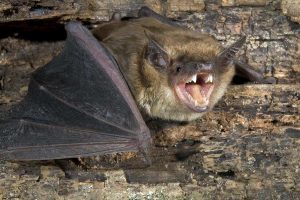 Bat Control & Removal Services
It's very important to leave the bat removal, cleanup and exclusion services to a professional company. Due to there being many health risks associated with bats, It's important to always let a professional handle the situation. Common troubles with bats include the transmission of histoplasmosis due to their guano, along with the more popularly known danger of possibly carrying rabies.
In order to remove the risk of being affected by the bats, our team will install a one-way funnel which will lead the bats outside and not allow reentry into the house. Our team will then seal up all possible entry points to make sure the bats don't return to your property. We can also provide a remediation plan to repair damages and clean up the mess left behind by the bats.
About Bats In North Carolina
If you're needing high quality bat removal, damage repair or bat prevention services in the Clayton, NC area, we have you covered. Contact the bat removal pros at Southern Wildlife and Land Management today to learn more about how we can provide your home or business with the best bat control services. Contact us today!
---
More Critters We Remove: