—
Need Quality Bat Control?
While these creatures are largely known for being "spooky" during the Halloween season, they're actually a real life threat throughout several months of the year. If you're currently dealing with a bat problem at your home in the Fuquay-Varina, NC area, we have just the solution for you.
Here at Southern Wildlife and Land Management, our team provides high quality bat control services. Here are some of the services we provide homeowners in order to take care of their bat problem:
Inspection
Removal
Exclusion & Prevention
Damage Repair
Sanitization & Deodorizing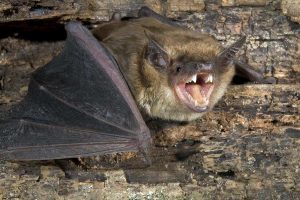 Bat Control Services
When looking for a quality bat control company, you should make sure that the pest control company is licensed and insured for the work that is going to be completed. Along with this, the bat removal specialists should have a proven track record of high quality work. This is exactly what you'll find at Southern Wildlife and Land Management.
Our team will provide you and your home with top-notch bat removal and prevention services in order to create a safe living area once again. Even though It may seem like the bats in your attic, walls or soffit areas aren't a threat to your health, they do pose dangers.
Commonly associated with carrying rabies, bats can pose a threat if they come into direct contact with you, but they can also pose a threat via the guano (feces) that they leave behind. This guano produces harmful toxins that can travel through ventilation systems and be inhaled by occupants of the home.
In order to remove this danger, our bat removal specialists will develop a customized plan to get rid of the bats and perform necessary exclusion work to make sure they don't come back to your home.
Trusted Bat Removal Professionals
If you're looking for a quality bat control and prevention company to serve your home in the Fuquay-Varina area, contact the professionals at Southern Wildlife and Land Management today. Our team will make sure to perform a safe and effective bat removal and cleanup service to return peace to your home. Call us today!
---
More Critters We Remove: