—
When you have bats in your Garner home, it isn't something to take lightly. The presence of bats in your house isn't just skin-crawling – these infestations may lead to significant problems if you don't deal with them right away.
With that said, it wouldn't be a good idea to try handling this situation on your own. North Carolina protects bats under state law, so it's best to find experts to complete this task according to state regulations and with the proper safety measures in place. If you live in the greater Garner, NC area, the best choice for bat control services is Southern Wildlife and Land Management.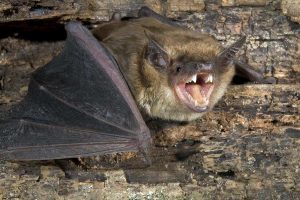 Quality Bat Removal Services
When bats live in your home, they don't just take up space in your soffit areas, attic, or walls. Over time, their fecal matter, or guano, will accumulate. Along with its strong odor, this matter can release toxic spores which then can cause histoplasmosis, a severe respiratory illness. Making matters worse, bats are well-known carriers of rabies, which could cause significant issues if they get into your living areas.
Because of these dangers and more, it's best to contact the professionals at Southern Wildlife and Land Management as soon as you know you have a bat problem – or even if you just suspect their presence. We're one of North Carolina's most experienced companies for this work, thanks to our years of experience and unmatched commitment to customer service.
Our bat control services include:
Inspection
Removal
Exclusion & Prevention
Damage Repair
Sanitization & Deodorizing
Take The First Step Towards Bat Removal
It doesn't matter if you've known you have bats for years or you just found evidence of an infestation. If you have a current bat issue, your next move should be calling Southern Wildlife and Land Management. Once you get in touch, we can help remove bats from your home and keep them out!
Of course, we serve many communities beyond Garner, too. We can work anywhere in the greater Triangle area – call us no matter where you need help!
---
More Critters We Remove: