—
Nobody likes an unwanted houseguest – and in the Holly Springs, NC area, one of the worst houseguests are bats. A bat infestation can last for months and bring serious health hazards into your home.
However, bat removal isn't a simple or altogether safe process for untrained and unequipped individuals. If you need effective bat control for your home or commercial property, it's in your best interest to work with the pros at Southern Wildlife and Land Management.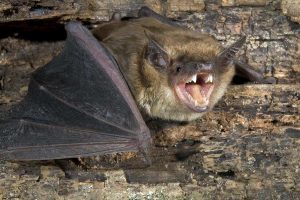 Trusted Bat Control Services
When bats enter a home, they can cause both an annoying living situation as well as a dangerous one. Their guano, or fecal matter, contains an undesirable odor and can release toxic spores which causes histoplasmosis – a severe respiratory illness. Along with that, if one or more of the bats in a home has rabies, any human/bat encounters include the risk of infection.
Fortunately, Southern Wildlife and Land Management's team members are experts in providing bat control services. We've been removing bats from local homes for many years, and we'd be happy to handle this work for you.
The bat control services provided by Southern Wildlife and Land Management include:
Inspection
Removal
Exclusion & Prevention
Damage Repair
Sanitization & Deodorizing
Contact Southern Wildlife Today
Have bats just taken up residence in your Holly Springs, NC home, or have you recognized the need to get rid of them after many years? In either case, Southern Wildlife and Land Management can help. We can get bats out of your home and back into their natural habitat quickly and effectively. We'll even keep them from coming back by installing exclusionary measures to your home!
In addition to Holly Springs, we serve many other communities nearby. Our services are available to people across the greater Triangle area.
---
More Critters We Remove: