—
Remove Bats From Your Property 
Do you need help getting rid of bats from your house or commercial property? If so, we're just the company you're looking for!
Southern Wildlife and Land Management consists of the finest bat control professionals and we gladly serve the Zebulon, NC area with top notch bat control services. Our team is highly trained and experienced in taking care of all types of bat issues. Whether you're dealing with one pesky bat that has made its way into your home or you suspect there is a colony roosting in your attic, it's best to call a professional right away.
With these small creatures being able to fit through the smallest of spaces, it's easy to understand why many homes and businesses in Zebulon deal with bat infestations. With many of these small openings being chimney cracks, small crevices in the building foundation, gable vents, or any other type of small opening, these are common entry points for bats. Because of these entry points, bats can usually then find their new home in your soffit, attic, walls, or even behind your shutters.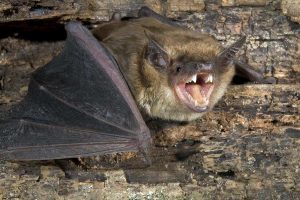 Professional Bat Control & Prevention Services
While it may seem like a simple task, bat removal, cleanup and exclusion services should always be left to a professional because of the health risks posed. Even though bats are a great aspect of the local environment because of all the bugs they eat during the night, they are also the source of harmful illnesses such as histoplasmosis along with being a common carrier of rabies disease.
To get rid of the offending bats, we install a one way door for all of the bats to leave through. Once all of the bats have left, we will then inspect the affected area once again to make sure all bats are gone. We will then work to seal up the house or building and all of its possible entry areas, so the bats don't come back.
About Bats In North Carolina
For all of your bat removal, damage repair or bat exclusion needs in the Zebulon, NC area, the professionals at Southern Wildlife and Land Management will make sure your home will have no more bats living in it. Contact our crew today for more information on how we can help get rid of the troublesome squirrels in your area.  Contact us today for all of your bat control needs!!
---
More Critters We Remove: