—
Bird Control Experts 
Are you in need of bird control services in Apex?
Everyone loves to watch birds at the feeders but no one wants to have birds build a nest on their home. Birds tend to build nests in high places, and will not hesitate to build one in the attic, gutters, soffits, vents or AC units of your house in Apex.
Birds can be loud, messy and destructive. They will defecate all over your property, which may prove corrosive, and some species will peck into the sides of your house in search of bugs. If you have birds nesting on your home in Apex, you should get help from a licensed bird control company.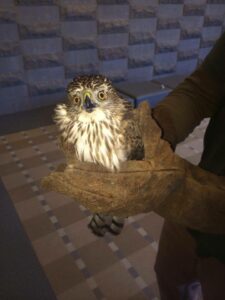 Professional Bird Control
If you've discovered bird nests on your home in Apex, Southern Wildlife & Land Management will perform an inspection to determine what species of bird has taken up residence and where their nests are located. Our technicians will then be able to safely and humanely remove their nests from your house.
To keep birds from returning and building new nests, our crew will make use of exclusion measures such as nets, spikes, ribbons and balloons to prevent them from roosting on your Apex home again. We'll also clean up all of the droppings, feathers and nesting materials they left behind so that your home looks nice and clean again.
Southern Wildlife Makes Birds Take Wing
If birds decide to start nesting on your house, they will create an unbearable mess. Contact Southern Wildlife & Land Management today for first class bird control services in the Apex area!
---
More Critters We Remove: