—
Cary Bird Removal Services  
Are you searching for bird control services in Cary?
As pleasant as it can be to have birds flitting about and singing in your yard, there's little more unpleasant than having them nest on your home. Birds typically nest in trees but they will just as happily build nests in the gutters, vents, soffits, AC units or attic of your house in Cary.
Birds are very loud and rude neighbors who will make a mess of your property. They will scatter their corrosive droppings everywhere and they might even bore into your house looking for food. If birds have built nests on your house in Cary, a licensed bird control service can help you remove them.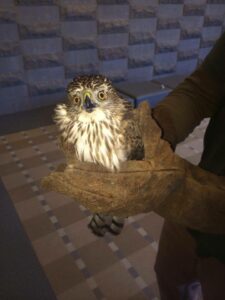 Reliable Bird Control
If you think birds have started nesting on your home in Cary, Southern Wildlife & Land Management will inspect your property to learn what kind of birds you've got and where their nests are. Our specialists will then conduct humane removal services for the birds and their nests.
To prevent other birds from building nests, our team will use exclusion tactics such as spikes, balloons, ribbons and nets to ward them away from your house in Cary. Our services also include cleaning up all of the feathers and droppings that birds produced to sanitize your house.
Southern Wildlife Puts Birds on the Fly
If left undisturbed, birds may continue to nest on your house for many seasons to come. Give Southern Wildlife & Land Management a call today for the best bird control services in the Cary area!
---
More Critters We Remove: