—
Clayton Bird Control Services  
Do you want bird control services in Clayton?
It's nice having birds visit the feeders in your yard but sometimes our feathered friends overstay their welcome by nesting on our homes. Birds are accustomed to nesting in trees but they are just as happy to build a nest in your Clayton home's AC units, vents, soffits, gutters or attic.
Birds can make quite the racket, especially hatchlings, and they'll also create a disgusting mess with their feathers and feces. Some birds will also drill holes in your house in hopes of finding a meal. If birds have become a problem around your house in Clayton, let the bird control professionals come to your aid.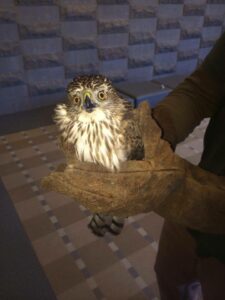 Effective Bird Control
If you want to get rid of the bird nests around your home in Clayton, Southern Wildlife & Land Management will conduct an inspection to identify the nesting birds and discover all their nesting sites. Our experts will proceed to safely remove every bird nest from your premises.
Since other birds may quickly occupy a vacant nesting site, our technicians will use exclusion materials including spikes, nets, balloons and ribbons to prevent them from building more nests on your home in Clayton. While we're at it, our crew will clean up after the flying pests by removing all droppings and feathers.
Southern Wildlife Doesn't Let Birds Nest
Birds nesting on your home can disturb your peace and ruin your cleanliness. Call Southern Wildlife & Land Management today for expert bird control services in the Clayton area!
---
More Critters We Remove: