—
Bird Control Experts  
Are you seeking bird control services in Garner?
Most of us love having birds in our yards but if they decide to nest on or inside of your home in Garner, they can become a major nuisance. Birds are accustomed to nesting up high and your attic, gutters, soffits, vents and AC units provide perfect places for them to start building.
In addition to making a ridiculous amount of noise, birds will messily scatter droppings all over your house and can also be quite destructive to your roof and siding when building nests and hunting for bugs. If you have birds nesting in your home in Garner, let the bird control professionals evict them for you.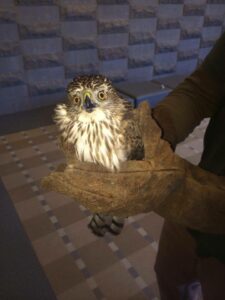 Dependable Bird Control
If you discover bird nests in your house in Garner, Southern Wildlife & Land Management will perform an inspection to determine what sort of birds we're dealing with and where they've built nests. Next, our technicians will humanely remove every bird nest from your property.
As a deterrent to other birds, our team will place exclusion devices including balloons, ribbons, spikes and nets on the exterior of your house in Garner. In addition, we'll clear out all droppings and feathers that birds have littered your home with.
Southern Wildlife Makes Birds Nest Elsewhere
Having birds nest in your home will quickly become a burden in your daily life. Get in contact with Southern Wildlife & Land Management today for superior bird control services in the Garner area!
---
More Critters We Remove: