—
Bird Removal Professionals 
Would you like bird control services in Holly Springs?
You may welcome birds as guests in your yard and at your feeders but you probably won't welcome them into your home in Holly Springs. Birds normally nest in trees but sometimes they try building nests in houses in such areas as attics, vents, soffits, gutters and AC units.
Adult birds are noisy and their offspring make even more of a cacophony. Aside from the noise, birds will defecate all over your house and may peck holes in your wood in search of bugs. To remove nesting birds from your house in Holly Springs, bring in an experienced bird control company.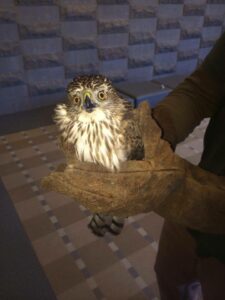 Top Tier Bird Control
If you're tired of birds nesting in your home in Holly Springs, Southern Wildlife & Land Management will inspect your premises to learn what bird species you've got and where their nests have been built. Once we know what we're dealing with, our professionals will remove all of the bird nests around your home as quickly as possible.
Because other birds may attempt to fill the vacancy, our team will apply exclusion devices such as nets, ribbons, balloons and spikes to deter birds from nesting in your house in Holly Springs. We'll also clean up after your unwelcome guests by removing all of their feathers, droppings and nesting materials.
Southern Wildlife Makes Birds Find Another Roost
If allowed to build a nest inside your home, birds can prove to be extremely annoying and messy. Contact Southern Wildlife & Land Management today for proficient bird control services in the Holly Springs area!
---
More Critters We Remove: