—
Wildlife Control Professionals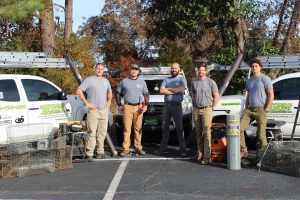 Whether you're looking to visit a local baseball game, nearby park, or a downtown restaurant, there is plenty to do in the wonderful city of Zebulon. Though this city is filled with amazing opportunities for its residents, it also provides wild animals a habitat as well. If you have noticed these critters in your home or causing damage to your property, call the professional wildlife removal specialists at Southern Wildlife and Land Management today.
Our expert wildlife removal team makes getting rid of unwanted wildlife a breeze. Since 2009, our team has been providing home and business owners with the best wildlife removal services in the Zebulon area. Whether you're noticing damage to your crawl space, clogged exterior vents, or rustling in your walls and attic, our wildlife professionals will remove these critters and keep them away from your home. Popular animals we remove include bats, birds, opossums, rats, raccoons, snakes, squirrels and many others. Once we remove these animals from your home and property, we will install animal exclusion barriers to prevent the animal from returning to your home.
You can trust the experienced wildlife removal professionals at Southern Wildlife and Land Management. Contact us today for all of your wildlife control and exclusion needs!