If squirrels manage to invade your home in Cary, they'll most likely form a nest in your attic. Because attics are warm, isolated, and offer squirrels shelter from both predators and the elements, they're ideal for squirrels to raise their young. Squirrels will also freely scamper through your walls, which may be how you first become aware of an infestation.
In your attic, squirrels will shred insulation and gnaw on woodwork. Inside your walls, squirrels will chew on electrical wires, a dangerous habit that can start a house fire. If you want to keep squirrels from wreaking havoc on your attic and walls in Cary, here are some tips to keep them out.
3 Ways to Prevent Squirrel Entry to Attics & Walls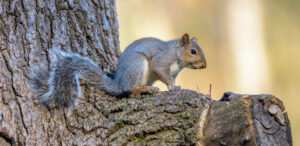 Cover Your Vents – Dryer vents and other vents on the exterior of homes in Cary often have openings through which squirrels may enter. From here, squirrels can break into your attic and walls with ease. To prevent this from happening, install vent guards over all exterior vents around your home. Be warned that squirrels can be quite persistent and may eventually manage to gnaw through these vent guards, so check them once in a while for damage.
Seal Off Holes – They might look big when you see them raiding your bird feeders, but squirrels can fit their bodies through holes as small as 1.5 inches in diameter. Weather damage can easily create holes of this size in your roof, allowing squirrels to invade your attic, and your siding, letting squirrels infiltrate your walls. Inspect the exterior of your home in Cary a few times per year to identify any of these entry holes. Then, close them off with a good weatherproof sealant so that squirrels can't use them like doors.
Trim Overhanging Branches – Squirrels are dexterous climbers and impressive jumpers. If you have tree branches hanging over the roof of your home or scraping up against the walls, squirrels will be able to effortlessly reach your roof, and this can lead to a squirrel infestation in your attic in Cary. To make it much more difficult for squirrels to access your roof and, by extension, your attic, trim off any big branches that they could use to reach your roof.
Cary's #1 Squirrel Removal Company
If you have squirrels in your walls or attic, you should work with a reliable wildlife removal company to get them out before they cause severe damage. Call Southern Wildlife & Land Management today if you want help to get rid of squirrels in the Cary area!