—
Get Rid Of Bats In Your Home Or Commercial Property 
Are you needing assistance with removing bats from your home or commercial property in the Apex area? Here at Southern Wildlife and Land Management, our team of professional bat control specialists are highly trained and experienced in taking care of all types of bat issues.
Since bats can fit through very tight spaces, it's no wonder why many homes and businesses in Apex deal with bat issues. Whether they're located in your attic, soffit, walls, or behind your shutters, these little critters oftentimes don't have to look very hard in order to find safe shelter. Bats usually enter through gable vents, cracks in a chimney, small crevices or holes in the foundation, or any other small opening.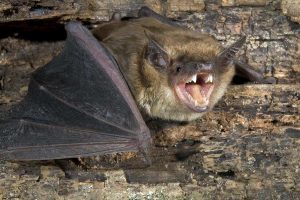 Bat Control & Removal Services 
It's very important to leave the bat removal, cleanup and exclusion services to a professional company because of the many risks associated with these creatures. While they are very beneficial creatures to the environment, they are commonly linked with histoplasmosis because of their guano, and being a common carrier of rabies.
By funneling the bats out through a one way door and then sealing up all possible entry points, this will make it so the bats don't come back into your home or workplace. When all bats have left the structure, our certified bat professionals will complete the project by performing cleanup and remediation services.
High Quality Bat Control Services
Whether you're needing bat removal, damage repair or prevention services, Southern Wildlife and Land Management has you covered. Contact our team today to learn more about how we can provide top quality bat control services for your home or commercial property in the Apex, NC area. Contact us today!
---
More Critters We Remove: