—
Removing Bats From Your Home
Have you been noticing a greater population of bats around your home in Durham, NC? Or maybe you've been hearing a fluttering in your attic during the night hours? If you've experienced either of these situations, it's best to call a trusted bat control company to inspect your home for bats.
Here at Southern Wildlife and Land Management, our team of bat removal professionals are experienced and trained in how to safely and effectively get rid of bats from home attics, walls and soffit areas. As we respond to your service request, we will be able to provide your home with one or more of the following services:
Inspection
Removal
Exclusion & Prevention
Damage Repair
Sanitization & Deodorizing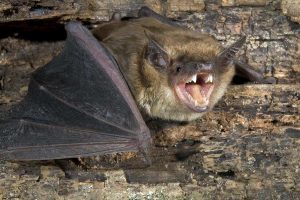 Bat Removal Services
Though it might seem like these creatures are "safe enough" to live alongside as they are largely separated from your living area, there remain a few dangers. One of them is the fact that they're common and possible carriers of rabies. Also, if a colony of bats lives in your attic undisturbed, the amount of guano (feces) left behind will only continue to grow. This presents a threat to everyone living in the home because of the toxic spores that develop and can spread through ventilation systems and into living areas.
Instead of allowing these threats to exist in your home, our team will safely inspect, remove and exclude bats to ensure your future safety. No matter how many bats you're dealing with, our team will develop a customized plan of action to get rid of these creatures.
Trusted Bat Control Professionals
For all of your bat control and exclusion needs in the greater Durham, NC area, contact the professionals at Southern Wildlife and Land Management. Our team of bat removal experts will provide you with an effective bat control service to get rid of them in a safe and effective manner. Call us today!
---
More Critters We Remove: